Why an Artificial Grass Lawn is Perfect for A Party?
  Throwing a party can be a fun way to end summer. We can host garden parties and barbecues again, is your lawn ready for guests? But all that foot traffic can make it look like your backyard needs some serious lawn care ahead. Time to install artificial turf and transform your garden space into an entertaining area at the same time, providing the perfect party venue for summer fun.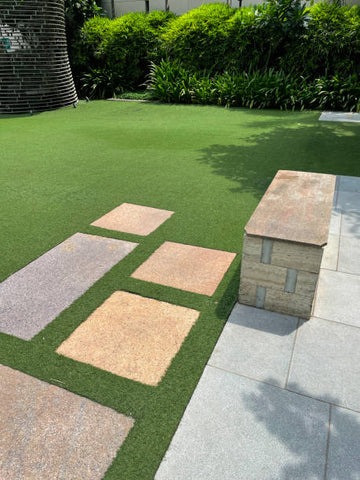 low maintenance artificial turf
 The beauty of artificial turf is that it's beautiful and low maintenance, and doesn't require mowing and weeding like real lawns do. So you can spend less time prepping the garden and more time marinating BBQ meats, making salads, serving desserts, making your signature cocktails and decorating the table, guaranteed to keep everyone in the party spirit .
  The weather looked like it might be raining, and it was a thoughtful thought to set up the canopy ahead of time on the artificial turf, and then it was ready to go. With artificial turf material, there will be no mud and mud even on heavy rainy days, will not ruin your garden and cause a big mess, so you no longer have to worry about your friends' shoes getting muddy or paw prints, which will be a pity for happy parties.
  Artificial turf is the perfect party venue, and with synthetic turf you can make the most of summer as well as the beautiful sunny days of spring and fall, making it a worthwhile investment.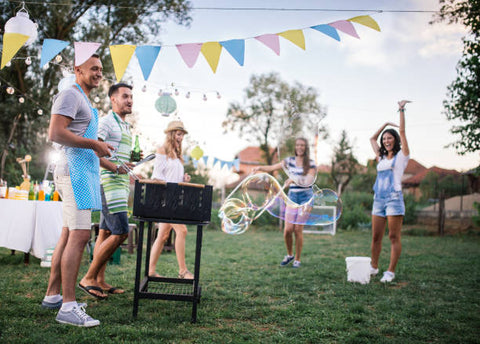 Easy-to-clean artificial grass
  In addition to being low maintenance, artificial turf is super easy to keep clean, so you don't have to worry about your kids dropping their ice cream or party guests spilling a glass of wine. There are many artificial turf cleaning products on the market today that are specifically designed to remove stains from astor turf, but you may find that homemade white vinegar and water solutions are just as effective.
  We recommend treating any potential stains, such as red wine or oil, immediately, and hose down the lawn after guests leave to remove any other sticky residue that may remain in the blades. The next morning, go over it with a power brush or stiff broom to get all the grass blades upright in the right direction, and you're good to go.
Tips for grilling
  Although artificial turf is not easy to burn, even if it is directly ignited, the fire will not spread, so a fire will never happen. But we still recommend not under any circumstances to put barbecue items on fake grass, they will melt when exposed to high temperature, and hot embers will damage the surface, we all want to leave a whole beautiful green for your guests .
  While it's relatively easy to remove and patch fake grass, all you need to do is place the grill on the fire mat and everything will look as you want it to.
  If you need help choosing the right artificial turf for your entertaining space, feel free to contact PETGROW. We will recommend the most suitable product according to your individual needs and requirements.